A "New" Way to Worship
Many churches provide multiple worship services to accommodate the various stylistic preferences of their members. In 2015, First Presbyterian Church decided to leave behind the old labels of traditional and contemporary worship and focus on the variety of spiritual needs in the community surrounding the church. This has led to a unique partnership between three congregations to reach the residents of northern New Jersey.
Sunday Worship: 
10:00 am  Sanctuary Worship with First Presbyterian: In our mobile world, families are spread out across town, across the state, across the country, and across the world. For those who are looking for friendship and fellowship, worship at First Presbyterian is like a weekly family gathering. The presence of God is experienced in the sharing joys and concerns, passing the peace, and singing traditional hymns. Worship is led by the Rev. Steve Huston and celebrates that in life and in death, we belong to God.
10:00 am Chapel Worship with Church of the Risen King (CRK): CRK is a new worshipping community that believes Jesus Christ didn't die on the cross for church budgets, church programs, church attendance figures, offering plates or stained glass windows. Jesus died on the cross for people of all nations! The presence of God is experienced in the energy of the modern music, the inspirational preaching, and the hospitality of the people. Worship is led by the Rev. Berj Gulleyan and celebrates that God loves people and because of that love, people's lives are transformed.
Click here for more information about CRK.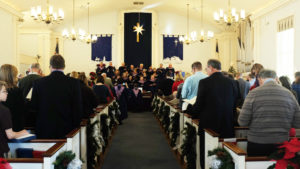 11:15 am Chapel Worship with Joyful Fellowship: Joyful Fellowship is a Korean language worship service that seeks to serve our Korean-American neighbors.